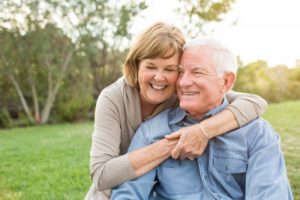 If you've been suffering from the pitfalls of missing teeth, you may have been going over a few replacement options. According to your dentist, there is nothing quite like dental implants, especially when comparing other tooth replacement options. While the upfront cost is high, the value is incredibly high as well.
With dental implants in Sagamore, you can expect long-term health benefits you won't find with other procedures, an improved quality of life, and a beautiful smile that lasts for decades.
A Long-Term Solution to Health Concerns
When teeth fall out, you're not just losing the visible crown that makes up your smile. You're also losing the root of the tooth, which is responsible for many functions. Without a tooth root to stimulate bone, the bone inside your jaw resorbs back into the body so it can be used elsewhere. This will cause the jawbone overall to shrink, leaving it weak and making functions like chewing more difficult.
Furthermore, roots are responsible for blood flow to the face and cheeks. When it's reduced, it causes the natural elasticity of the face to fade, making it sag, become hollow, and look older.
Dental implants are designed to stimulate bone and allow blood to continue, unlike other replacement options like dentures or bridges.
Eating the Foods You Always Loved
Eating foods with missing teeth is usually a very difficult task. Tough foods like steak and apples are nearly impossible to eat, even if you have dentures. If you lose more teeth over time, your overall nutrition can start suffering as well, forcing you to a softer diet to accommodate your missing teeth. After enough time, malnutrition could develop, putting you at risk of developing other diseases.
Since dental implants are designed to function exactly like natural teeth, you won't even notice the difference once they've fully healed and integrated with your bone. As a bonus, the crown that sits on top of the implant cannot develop cavities because it's made of inorganic material. Of course, daily brushing and flossing is still needed to keep the implant healthy.
Obtain a Naturally Beautiful Smile
If you're afraid of friends and family noticing your dentures or other restorations, you can feel confident after having your implants placed. They are truly indistinguishable compared to natural teeth thanks to the porcelain crowns your dentist in Sagamore Hills uses. These crowns are blended to match your current teeth exactly and thanks to porcelain's natural translucent appearance, your crowns will reflect light naturally as well.
With dental implants, you don't have to sacrifice function for beauty. Don't wait any longer to get your smile the way it was and your habits back on track. Schedule an implant consultation with your dentist today to learn more about dental implants in Sagamore!
About the Author
Dr. Dan Greenwood earned his Doctor of Dental Surgery degree from Ohio State University. He's able to place dental implants right in the office, so you don't have to travel to another location for treatment. To learn more about dental implants and related procedures, contact him through his website.