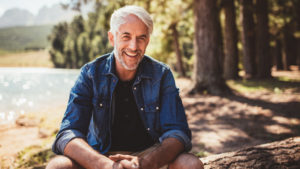 If you have just gotten dental implants in Sagamore Hills, congratulations! You are so close to enjoying all the benefits of a comprehensive tooth replacement option — like being able to eat what you want, smile with confidence, and much more. Right after the procedure, though, you are likely feeling a little tired and maybe experiencing some pain. Keeping a few things in mind will help you enjoy a faster and more comfortable recovery. Continue reading for 5 tips on how to take care of yourself after dental implant placement.
#1: Don't Skip Meals
After you have any oral procedure, you will probably feel sleepy and maybe a little nauseous coming out of the anesthesia that was used to help you relax throughout the surgery. These side effects can curb your appetite for several hours past the procedure, but skipping meals can also slow your recovery. You shouldn't force yourself to eat anything big or heavy, but getting something into your system by the evening of your procedure will help to ensure that you stay hydrated and healthy to take on the healing that lies ahead.
#2: But Only Eat Soft Foods
While it's a good idea to get some nutrients on the day of and following your dental implant placement, you will not be ready to resume your normal diet just yet. Stick to a soft foods/liquid diet until discomfort allows you to eat normally again.
Some items that are perfect to eat following an oral procedure include:
Brothy or cream soups

Smoothies

Yogurt

Scrambled eggs

Mashed potatoes

Baked white fish
To protect the treatment area, avoid eating hot foods and do not suck through a straw.
#3: Elevate Your Head
Some amount of swelling will occur after any oral procedure, as inflammation is your body's response to injury. To limit this side effect, rest (which you should be doing plenty of) with your head propped up on a few pillows.
#4: Avoid Alcohol
Drinking alcohol soon after any invasive procedure is a bad idea. Your body's immune system is slowly fighting back, and alcohol will only suppress your ability to heal on time. Plus, combining alcohol with your pain medications can result in nausea and take a toll on your liver. It's best to stay away until at least a week after the procedure.
#5: Take it Easy
Perhaps the most important consideration after your dental implant procedure is to get plenty of rest! This is the perfect time to binge your favorite television series or finally finish that book that's been hanging out on your nightstand. Take a couple days off from work or school if you can. Your body needs sleep to speed the healing process!
Dental implant procedures are highly successful in eligible candidates, but ignoring these steps after the implantation can cause complications. Eat right and plan to rest and relax and you'll be back on your feet in no time!
Meet the Dentist
Dr. Dan Greenwood is the dentist Sagamore Hills trusts with its smiles! He offers full-service implant dentistry, from placement to restoration, from the comfort of this state-of-the-art office. To learn more about dental implants or to schedule an appointment, do not hesitate to contact Dr. Greenwood at 330-467-2522.