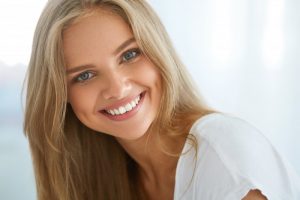 If you have teeth stains, then chances are the people you encounter will notice them, which could make for an unfavorable first impression and leave you feeling less confident. Thankfully, you can rejuvenate your smile with teeth whitening near Macedonia. Before receiving care, though, you should ask a cosmetic dentist these 4 questions.
Question #1 – Are the Results Permanent?
With the Opalescence Go System, high-powered bleaches are used to lift troublesome stains that have embedded into the enamel (hard, outer surface) of your teeth. The final result will be a set of ivories that is up to eight shades lighter.
Just as important as having the smile of your dreams, though, is being able to maintain it. Therefore, before receiving care, you should ask the specialist how long you should expect the results to last.
Question #2 – Is the Procedure Painful?
Although you want to have your smile rejuvenated, you'd prefer to have a painless experience. Thus, you should ask your cosmetic dentist if the procedure will cause any discomfort.
If you are usually prone to teeth sensitivity, it's a good idea to bring it to the dentist's attention before treatment starts. Some preventive methods may be used to ensure you have a pleasant experience.
Question #3 – How Should I Take Care of My Teeth?
Caring for your teeth properly after receiving professional whitening plays a significant role in maintaining a beautiful smile. Therefore, before the treatment process starts, your cosmetic dentist will be happy to go over the maintenance tips that you need to know to ensure that your dazzling new appearance will last longer.
Question #4 – Should I Avoid Certain Foods and Drinks?
A final important question that you should ask your cosmetic dentist is whether consuming certain foods and beverages can contribute to the demise of your newly whitened teeth. Thus, you can avoid any unwanted blemishes.
The dentist will also instruct you on what to do if you consume any of these items so you can best preserve your dazzling new smile.
A Great Time for Improvements
Now that the new year is underway, and you're busy working to achieve your goals, improving the aesthetics of your teeth and gums is a simple and attainable aspiration to add to the list. The process starts by reaching out to your dentist near Macedonia to schedule a consultation.
With the expert advice and care you'll receive, you'll soon have a brand-new smile to be proud of!
About the Author
A 1995 graduate of The Ohio State University, Dr. Dan Greenwood has over two decades of experience practicing dentistry. Throughout his career, he has remained steadfast in his efforts to provide the best in dental care. Thus, he maintains professional affiliation with such organizations as the Ohio Dental Association and the Cleveland Dental Society. Dr. Greenwood brightens smiles with teeth whitening at Greenwood Dental, and he can be reached for more information through his website.