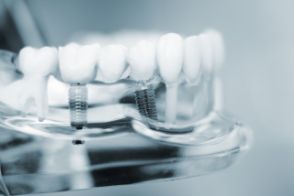 Heredity, gum disease, injuries, and a lack of dental care are just some of the reasons for tooth loss. It's no surprise that an estimated 178 million Americans are missing at least one tooth! If you can count yourself in this group, you've probably done some research on the best replacement option and found that implants are at the top of the list. But how many teeth can be replaced with dental implants in Macedonia and what are your options? Keep reading to find out!
Replacing a Single Tooth
Implants are an ideal way to replace just one missing tooth and won't damage the healthy teeth on either side of a missing space like a traditional bridge would. After a dentist has determined that an implant is right for you, you'll have an in-office surgery to place the implant (which is a surgical-grade titanium post) in your jaw. Then it's given about 10 weeks to fuse with the surrounding bone. This process, called osseointegration, is responsible for the strength and stability that implants provide.
Lastly, a dentist will attach a single dental crown to the implant. Often made of ceramic or porcelain, the crown will be made to blend in beautifully with your existing smile.
Replacing Multiple Teeth
In many cases, just two implants can be used to support a bridge and replace 3-4 missing teeth at once. This option provides significantly more chewing power than a partial denture and doesn't involve altering any natural teeth. After the implants are placed in the jaw, they'll take 10 weeks to fuse with the jawbone before a custom-made implant bridge completes the restoration.
Replacing All Your Teeth
Traditional dentures often become loose or ill-fitting over time, but implant-retained dentures are a wonderful solution and provide superior fit and function. Here are some additional benefits of implant dentures:
Implants prevent bone loss and preserve your facial structure.
Maintaining implants is straightforward and usually requires nothing more than good oral hygiene habits and regular checkups.
Implant-retained dentures last significantly longer than traditional dentures.
In most cases, only 2-4 implants per arch are needed.
What's the Next Step?
Implants are a great choice for most people, but to make sure they'll be successful for you, the first step is a consultation with a dentist in Macedonia. They'll evaluate your jawbone density, general and dental health, oral hygiene habits, lifestyle choices (e.g. smoking), and more before making a recommendation. When possible, they'll also provide more than one treatment option so you can make the right choice for your needs.
Dental implants are not only the "gold standard" in tooth replacement, but they can be customized to work for all types of tooth loss. With one of these options, you'll have a beautifully restored smile that feels like your own.
About the Author
Dr. Dan Greenwood has over 20 years of experience as a dentist in Macedonia and has seen firsthand how life-changing dental implants are after tooth loss. With many different ways of using implants to fit each patient's situation, he can help anyone restore their smile after tooth loss. If you have any questions about dental implants, he can be reached via his website.