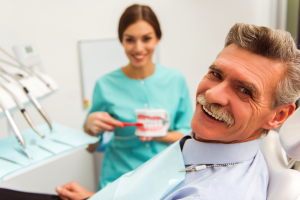 Smiling may seem like a simple gesture, but it's so much more than that. In fact, countless studies have been done on how it affects you psychologically, finding that each time you smile, you reduce your stress, increase your happiness, and even change the way other people perceive you. Of course, you have to feel confident about your smile before you want to show it off, which can be challenging after tooth loss. Fortunately, there are excellent options for restoring the function and appearance of your smile, including dentures and dental implants in Macedonia. Keep reading to learn about the pros and cons of each choice and how their psychological impact is different.
The Impact of Implants
Dental implants can be customized to fit many situations, no matter how many teeth you've lost. They can be used as a single tooth replacement, to support bridges, partial dentures, or full dentures. Implants are unique because they replace the roots of missing teeth, allowing them to feel and function more like your own teeth. That means that your restored smile will feel a lot more natural and give you more self-confidence after losing your teeth. You won't feel self-conscious or embarrassed when faced with everyday situations like job interviews or dinner with friends. Not to mention that you'll be able to eat more of your favorite foods like steak or corn on the cob. Dental Implants also preserve your jawbone, which maintains the shape and structure of your face. That goes a long way in helping you hang on to a youthful appearance over time.
The Impact of Traditional Dentures
While implants provide many advantages, traditional dentures are an option for some people. Dentures cost less than implant supported appliances. They can be placed immediately after tooth lost and made aesthetically pleasing.
Having said that, it's important to understand that traditional dentures simply won't feel as natural and won't give you the chewing power that an implant-supported appliance would. Since dentures don't replace the roots of your missing teeth, they also result in a loss of jawbone density over time. Not only does this change the bone structure in your face, it will eventually cause your dentures to become loose and start to shift.
If you've experienced tooth loss and want to know whether implants or traditional dentures are a better choice, start by scheduling a consultation with a dentist in Macedonia. They'll look closely at your oral health, dental history, budget, and goals before making a recommendation.
In the end, what's right for one person isn't always right for another. With an understanding of how each option will affect your dental health, you'll be better able to make the right decision for you.
About the Author
Dr. Dan Greenwood has nearly 25 years of experience as a dentist in Macedonia and is a graduate of Ohio State University. He firmly believes in the power of a healthy, beautiful smile to improve his patients' self-image and overall quality of life after tooth loss. If you have any questions about dentures or dental implants, he can be reached via his website.