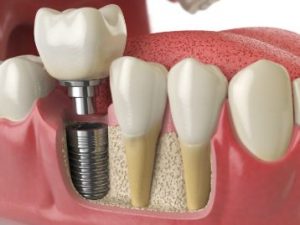 Thanks to modern dental care, the prevalence of tooth loss is lower than ever, but that doesn't mean it's unheard of! In fact, an estimated 178 million people in the U.S. are missing at least one tooth. While many people think it's "not a big deal," you might be surprised to learn about the many problems it can cause down the road. Fortunately, dental implants are an outstanding solution for  tooth loos, in Macedonia, that look and feel incredibly natural. Keep reading to find out how a missing tooth affects you and why dental implants are such a great option for restoring your smile.
What Happens If You Don't Replace a Missing Tooth?
When most people think about tooth loss, they think about having a gap that shows when they smile. But even losing a back tooth that doesn't show when you smile is problematic, because it can lead to the oral health issues below:
Difficulty eating or speaking clearly – Chewing hard or tough foods and clearly articulating words can be more challenging without a full set of teeth.
A thinner, weaker jaw – When a tooth is missing, the jawbone in that area loses bone density and becomes weaker than it once was. Eventually, your face can take on a collapsed look that adds years to your appearance.
More tooth loss – When all the teeth are present, they support each other so that everything stays in place. But when even one tooth is lost, the other teeth lose that support and begin to shift and move. This can lead to bite alignment issues and uneven wear and even make it harder to keep your remaining teeth clean. Over time, these issues put you at higher risk for more tooth loss.
And, as more teeth are lost, these problems become worse. Fortunately, dental implants mimic the function of natural teeth and can prevent all of these issues.
The Benefits of Dental Implants
A dental implant is the only tooth replacement option that replaces the root of a missing tooth. This key feature accounts for the many benefits they offer, including:
Implants are considered to be a long- lasting solution to tooth loss. With regular checkups and good oral hygiene, they can last for decades.
Unlike a traditional bridge or denture, implants stimulate the surrounding jawbone and preserve it over time, reducing bone loss.
Implants give you much more chewing strength than other options. You'll also have greater stability and won't have to worry about embarrassing "slips" that can happen with traditional dentures.
Implants feel and look like your natural teeth.
Implants are conservative. Tooth replacement can be accomplished without touching other healthy teeth.
Simply put, implants are one of the best investments you'll make in your oral health. They not only give you a full set of teeth but also preserve the health of the rest of your smile as well.
About the Author
Dr. Dan Greenwood has been practicing as a general, cosmetic, and restorative dentist near Macedonia for close to 25 years. He always makes every attempt to save his patients' teeth when possible. But when extractions are necessary, he usually recommends dental implants because of the many benefits they provide. If you're missing a tooth or have any questions about dental implants, he can be reached via his website.