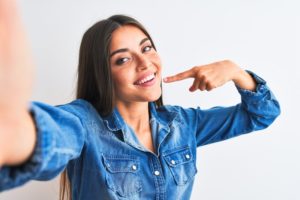 The appearance of your smile is influenced by many factors. The main focus may be your teeth, but your gums are also important because they frame your teeth. But what if you were born with a gummy smile or uneven gums? In these cases, a cosmetic dentist in Macedonia can perform a simple procedure called gum recontouring to reshape the tissue. And when it's done with a soft tissue laser, it's faster, easier and more comfortable than ever before. Keep reading to learn how it works and whether gum recontouring might be right for you.
How Does Gum Recontouring Work?
Here are the basic steps to the procedure when it's done with a soft tissue laser:
The first step is numbing the area and making sure you're comfortable.
From there, a laser (which works by directing a concentrated beam of light energy towards the gums) is used to remove any unwanted tissue.
Then you'll be given post-op instructions on how to keep the area clean, which foods to avoid while you're healing, and whether any products like an antiseptic mouthwash would be helpful.
The Advantages of a Soft Tissue Laser
While gum recontouring was traditionally done with a scalpel and stitches, a dentist who uses a soft tissue laser is able to offer multiple benefits compared to that method. First, there's significantly less bleeding and discomfort, which means the recovery period is faster and easier, with little to no need for pain medication. In addition, the procedure takes less time and often doesn't require as much anesthesia.
Is Gum Recontouring Right For You?
Each person is unique, so the first step is a consultation with an experienced cosmetic dentist. With that said, gum recontouring is often a great choice for anyone who wants to correct:
Uneven gums – When your gums are uneven, it's easy to assume that your teeth are "different sizes." Reshaping the gums makes the teeth uniform and symmetrical in appearance.
A gummy smile – Excessive gum tissue makes your teeth look shorter or smaller than they actually are. Gum recontouring lengthens the teeth to make your smile beautiful and well-proportioned.
If you want to improve the appearance of your teeth, making sure they're correctly framed by your gums can make all the difference. And with advanced techniques with a soft tissue laser, the procedure couldn't be easier.
About the Author
With 25 years of experience as a cosmetic dentist in Macedonia, Dr. Dan Greenwood has helped hundreds of patients correct their gummy smiles. With the use of a soft tissue laser, he's able to provide outstanding results quickly and comfortably. If you'd like to know more about gum recontouring or have any questions, he can be contacted via his website.