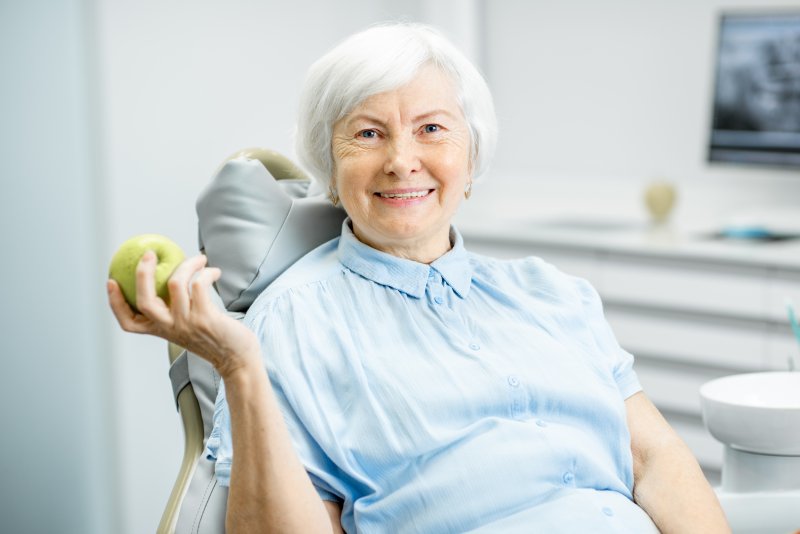 Missing teeth can cause problems with your oral and overall health as well as your aesthetics. When your smile is incomplete, you might be less likely to pursue opportunities, attend social gatherings, or feel hopeless when it comes to maintaining good oral hygiene. Fortunately, there is a solution that makes it possible to not only see a fully functional smile once again but also assist in boosting your confidence. However, it does require that your dentist examine your oral and facial structures to determine if you're eligible for treatment. If you're interested in learning if qualify as a dental implant candidate, read on to find out what characteristics your dentist will be looking for during your initial consultation.
Your Gums Are Healthy
One thing you'll need to remember when wearing dental implants is that gum disease can easily attack these soft tissues, causing your newly placed restorations to fail. Prior to placement, your dentist will need to examine your gums to determine if they are healthy enough to even consider the possibility of dental implants. If there are any signs of gingivitis or periodontitis, it will be necessary to address this problem before moving forward with any form of tooth replacement, especially since periodontal disease (gum disease) can attack the bone and cause it to weaken.
You Want to Maintain Good Oral Health
No matter the reason for your missing teeth, you may now realize how important it is to maintain good oral health. In discussing with your dentist about the idea of receiving dental implants, you will need to be committed to the maintenance it requires to keep these restorations in optimal condition. While you won't need to purchase special products or instruments, you will need to brush your teeth twice daily for two minutes, floss at least once a day, and use mouthwash to rinse away any remaining debris.
Your Jawbone is Strong
Your gums are not the only aspects of your oral cavity that need to be healthy. Your jawbone is the foundation for your dental implants, so if it is not strong enough to support the posts or restoration, you can expect your dentist to recommend a bone graft or sinus lift. By adding bone minerals to the weakened areas of your jawbone, it will create a stronger base for your implants when placed. This additional process isn't necessary for everyone, but should you require this type of procedure, it will add time to the overall process of receiving dental implants.
You Possess No Chronic Diseases
Individuals with weakened immune systems often have more difficult times healing. Because dental implant placement does require spending several months at home recovering (an estimated 3-6 months), the process of osseointegration must occur successfully in order to avoid implant failure. This means the titanium posts must fuse with the bone and surrounding tissues to create a solid foundation.
If you have diabetes or another chronic disease, you are more susceptible to infection and the inability to heal quickly, making dental implant placement an unlikely possibility.
You Don't Smoke or Drink Alcohol Excessively
Not only is smoking and drinking in excess bad for your overall health, but these bad habits can make it harder to heal after receiving dental implants. Not only can it weaken your immune system, but too much alcohol consumption can lead to bone loss, and smoking can make it difficult for the tissues surrounding your implants to regenerate. Both of these instances can prevent your implants from fusing with the bone and tissues, resulting in dental implant failure.
The only way to know if you are truly eligible for this type of restorative procedure is to schedule a consultation with your dentist and discuss your medical history. After a thorough examination and review of your current health, you will know if dental implants are the right solution to replace your missing teeth.
About the Author
Dr. Dan Greenwood achieved his Doctor of Dental Surgery degree from The Ohio State University in 1995. After completing residencies in General Practice Dentistry and Primary Care at the Department of Veterans Affairs in Cleveland, OH, he has committed to improving the smiles of every individual who seeks him for treatment. With advanced training, Dr. Greenwood is a welcoming face for patients with missing teeth. Combining his knowledge, skill, and modern technology, he can safely place dental implants in-house, making it a more convenient and comfortable procedure for those looking to restore their smile permanently. If you are wondering if you qualify for dental implants, visit our website or call (330) 467-2522.