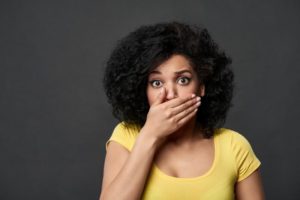 Everyone wants beautiful white teeth, but random white spots on the enamel are a different matter entirely! Uneven patches of coloration on your pearly whites can make you feel self-conscious about showing off your otherwise dazzling smile. These white spots can be caused by several different things, including decalcification and orthodontics. Fortunately, regardless of why they've appeared, they can be easily treated with modern cosmetic dental treatments! Read on to learn more about white spots on teeth in Sagamore Hills and what you can do about them.
What Causes White Spots on Teeth?
There are a wide variety of factors that can cause white spots on teeth. Sometimes, they can be an indication of a vitamin deficiency. If you don't have enough calcium or other enamel-supporting minerals in your diet, white spots may form. Certain illnesses and medications can cause uneven enamel discoloration as well, especially if children take specific antibiotics meant for adults.
The two most common causes for white spots on the teeth are fluorosis and dental hypoplasia. Both issues develop in childhood and cause issues in enamel strength. Fluorosis occurs when children are overexposed to fluoride. Dental hypoplasia is a genetic defect that causes thin or absent enamel. Both conditions can cause small white spots to appear on baby teeth and sometimes adult teeth as well.
The Best Treatments for White Spots on Teeth
Fortunately, thanks to modern cosmetic dentistry, there are plenty of services that can help eliminate those spots and restore your beautiful pearly whites! First, you'll need to visit your cosmetic dentist for a consultation so they can determine the cause of the discoloration and therefore which treatment would be most effective for you. Depending on what they find, they may recommend:
Teeth whitening: The most straightforward way to deal with any sort of uneven discoloration, especially if it affects multiple teeth, is a professional teeth whitening treatment. This fast and reliable service can take years of stains off your smile and even out the color of your pearly whites.
Direct bonding: If you have a few very noticeable white spots on your teeth, a targeted treatment like direct bonding might be a better choice. In a single quick and easy appointment, your dentist could conceal the spots with a biocompatible tooth-colored composite resin for seamless results.
Porcelain veneers: For particularly difficult cases, or for optimal aesthetics in highly visible places like your front teeth, porcelain veneers are the most popular choice. These thin shells of dental porcelain cover the entire front surface of a tooth, allowing you to completely redesign its color, shape, and appearance.
Don't let white spots on your teeth hold you back in life! Get the beautiful, flawless smile you deserve by contacting your cosmetic dentist today!
About the Practice
Dr. Dan Greenwood has been caring for the smiles of Sagamore Hills since 1998. As a member of the American Dental Association, Ohio Dental Association, and the Cleveland Dental Society, he's proud to offer all the latest, most effective dental services. If you have white spots on your teeth, he can provide cosmetic dental treatments to help you achieve the smile you deserve. To learn more, he can be contacted online or at (330) 467-2522.