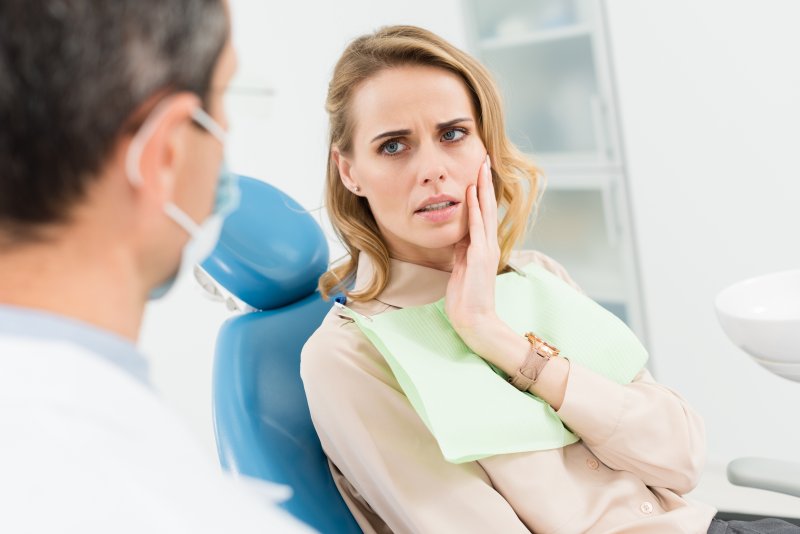 When you receive a dental implant, you can normally expect it to stay in your mouth for a very long time. Implant placement has an extremely high success rate of 95 percent, and the average dental implant has a lifespan of 15 years or more. Typically, dental implants last longer than tooth-supported bridges, making implants the preferred option to replace missing teeth. Unfortunately, dental implants can fail. Bleeding when brushing or flossing may be an indication of a problem with your dental implant. This may be a sign the gingival tissues around the implant are inflamed or you may have some bone loss around your implant. If this situation is not addressed, bone loss could progress to the point where the implant itself is no longer supported by the bone and becomes loose. What can cause loose dental implants, and what can be done to save your teeth?
Possible Causes for Loose Dental Implants
Dental implants form a strong bond with your jaw thanks to osseointegration, the process of bone cells growing and fusing to the dental implant. This is typically quite predictable in a healthy situation. Normally, implants should stay firmly in place. If your implant feels loose, one should follow up with their dentist to get to the root of the problem. Following are some reasons for loose dental implants:
Osseointegration has failed completely. There is no bond between the implant post and your jaw. This may happen if there's not enough healthy bone tissue around the implant site.
The area around the dental implant has become infected. Bacteria can attack the tissues supporting the implant, weakening them over time. Eventually, the inflammation or infection can cause your jaw to lose its grip on the implant post.
The implant was exposed to too much pressure during osseointegration and didn't bond properly with the bone as a result.
The crown, bridge, or denture has become loose. This does not necessarily indicate a problem with the implant itself, but rather the screw or abutment which connects the restoration to the implant.
Smoking, vaping, or smokeless tobacco has caused premature implant failure.
Inadequate oral hygiene has caused the tissues around the implant to become inflamed, leading to implant periodontitis. Left untreated, this can advance bone loss around the implant, resulting in failure of the implant. Good brushing and flossing habits will promote ideal gingival health, leading to increased longevity of your dental implant.
What to Do If Your Implant Loosens
There's no time to waste when a dental implant feels loose. You should follow up with your implant dentist right away to diagnose the problem and take whatever steps are necessary to restore your health and keep your smile intact. They can figure out exactly what the problem is and take whatever steps are necessary to restore your health and keep your smile intact. A loose abutment or restoration can be corrected with relative ease, but issues with the implant itself usually call for more advanced measures. The failing implant would have to be removed and bone grafting procedures initiated to repair bone loss if the same site will be receiving another implant.
A loose dental implant is not a common condition. Excellent oral hygiene and good dietary habits are important to maintain the health of your implants. Regular checkups at your dentist will detect and address potential issues that can compromise your implant. Early detection of problems typically lead to more successful treatment outcomes.
About the Author
Dr. Dan Greenwood earned his Doctor of Dental Surgery degree from The Ohio State University in 1995, and he's a current member of the American Dental Association, Ohio Dental Association and the Cleveland Dental Society. He performs dental implant procedures in-house at Greenwood Dental in Sagamore Hills. Whether you're getting implants placed for the first time or need treatment to save a loose implant post, Dr. Greenwood has the expertise and training you need in your corner. To schedule an implant consultation, visit his website or call (330) 467-2522.