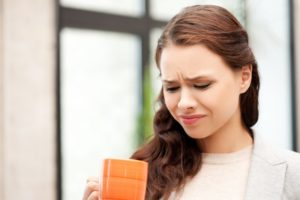 There it is again. You've finished your lunch and gotten back to work when you notice the bitter taste in your mouth. Every once in a while, this symptom isn't worrisome, but it's been happening more frequently lately. You're not sure what's causing it or what to do about it. Keep reading to learn about the possible sources of bitter taste and how you can get a better tasting mouth.
Causes of Bitter Taste
Although there are many possible sources of bitter taste, here are the main culprits.
Dry Mouth
As the term suggests, dry mouth occurs when saliva production and lubrication are low, and the mouth becomes dry and sticky. In these conditions, harmful oral bacteria flourish and produce a bitter taste, as well as stinky breath. Dry mouth is often a side effect of medication or the result of mouth-breathing.
Bad Oral Hygiene
If you neglect your daily oral hygiene, you may come to have a persistent bitter taste in your mouth. Brushing not only gives your teeth and tongue a refreshing minty taste, but it, along with flossing, clears away plaque and bacteria that exacerbate the bitter taste and lead to gum disease.
Pregnancy or Menopause
Unfortunately, hormonal changes can alter the senses as well as cause other conditions that impact the mouth. Stress, medications, and illness can also affect your ability to taste and the bacterial content of your mouth.
Acid Reflux
When stomach acid is not properly contained, it can travel up the food pipe, bringing a bitter taste with it.
Remedies for Bitter Taste
If you experience a bitter taste on a consistent basis, even after doing the following, you should discuss your symptoms with your dentist or physician because it could indicate a more serious problem. In the meantime, you can try these at-home remedies:
Avoid certain foods: If you get acid reflux, you can stay away from spicy, greasy foods, and limiting your sugar intake will reduce the bacteria in your mouth.
Maintain daily brushing and flossing: If you brush and floss every day, you minimize the impact that oral bacteria can have on your teeth, gums, and tastebuds.
Visit the dentist regularly: Your dentist can keep a close eye on your teeth and gums to make sure you don't have a foul-tasting oral infection.
Use a mouthwash: If you aren't already, you may wish to add rinsing your mouth with a minty, antibacterial mouthwash to your daily hygiene routine.
Chew flavored gum, especially after meals: Not only will having a piece of gum bring a different taste to your mouth but it keeps your mouth salivating, which helps to rinse away foul bacteria.
Drink plenty of fluids: Particularly if you are dehydrated, your mouth could easily become dry; by sipping lots of water throughout the day, you can keep your mouth well lubricated.
You don't have to live with not enjoying the way your mouth tastes. When you understand the source of the bitter taste and ways you can address it, you can change to have a more pleasant flavor.
About the Author
Dr. Dan Greenwood has owned and operated Greenwood Dental since 1998. Soon after graduating with his dental degree from The Ohio State University, he completed a general practice residency program. Although he has gained the knowledge and experience to handle advanced care for various issues, Dr. Greenwood encourages patients to prevent problems in the first place. If you are struggling with a bitter taste in your mouth, you can make an appointment by contacting our Sagamore Hills office online or calling us at 330-467-2522.