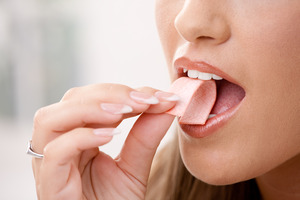 What steps do you take to protect your smile from cavities? Obviously, brushing, flossing, and visiting your dentist regularly are all important. However, you may have heard that chewing gum can also help prevent dental decay. Is this true? The answer is yes – provided that it's the right kind of gum. Here's the truth behind how chewing gum can benefit your oral health.
The Dental Advantages of Chewing Gum
While gum that contains sugar is just as bad for your teeth as other types of candy, sugarless gum is another story. Chewing on it causes your mouth to produce more saliva than usual. Saliva plays an important role in maintaining your oral health; not only does it wash away the food debris and bacteria that can cause cavities, but it also neutralizes acids that can wear down your enamel. The more saliva that's present in your mouth, the safer your smile will be.
Furthermore, many types of sugarless chewing gum have been sweetened with xylitol, which can be used to inhibit the growth of harmful bacteria in your mouth. With enough xylitol exposure, you can create an oral environment where fewer decay-causing bacteria are able to thrive.
The Best Way to Chew Sugarless Gum
If you want to get the greatest possible dental benefit from chewing sugarless gum, keep these tips in mind.
The best time to chew sugarless gum is right after you've finished eating; this can significantly reduce the amount of time it takes for your saliva to clean your smile.
You should chew your sugarless gum for up to 20 minutes at a time. Try to avoid chewing for too long so that you don't overwork your jaw joints.
Start carrying sugarless gum with you at all times so that you can use it throughout the day to keep your teeth clean.
Remember that sugarless gum is not a substitute for your regular oral hygiene routine. You should still brush at least two times every day; don't forget to floss to clean the spaces between your teeth.
Is There Anyone Who Shouldn't Chew Sugarless Gum?
While sugarless gum can have a positive impact on your oral health, it's still very sticky. That means you shouldn't chew it if you have braces or another kind of oral appliance that could potentially get pulled off the teeth by mistake.
Also, people with TMJ disorders should avoid chewing gum in general. A TMJ disorder occurs when the joints connecting the lower jaw to the skull are strained or injured. Chewing gum can make the problem worse and lead to further pain.
That said, it's important not to ignore the dental benefits of chewing sugarless gum. Talk to your dentist to see if picking up this habit is the right choice for your oral health.
About the Author
Dr. Dan Greenwood earned his Doctor of Dental Surgery from The Ohio State University in 1995. He is currently a member of the American Dental Association, the Ohio Dental Association, and the Cleveland Dental Society. At Greenwood Dental in Sagamore Hills, he uses his expertise to help his patients maintain cavity-free smiles. To schedule a consultation with Dr. Greenwood, visit his website or call (330) 467-2522.