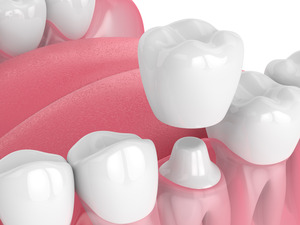 Dental crowns are normally expected to last for several years, but it's not unheard of for them to become dislodged before it's time for them to be replaced. If you end up losing your dental crown, you need to be proactive about dealing with the situation; the tooth won't be in immediate danger, but it will be more susceptible to injury and decay. Below are 5 steps your emergency dentist recommends following if your dental crown becomes dislodged.
Step 1: Find the Crown and Keep It Safe
Locate the crown immediately. If it's still in your mouth, take it out so that you don't swallow it on accident. As soon as you retrieve the crown, rinse off any dirt or debris before putting it in a safe container. It may be possible to reuse the restoration if it's still intact, so it's important to protect it until you can get to your dentist's office.
Step 2: Call Your Dentist
After securing your crown, your next step should be to call your dentist. Let them know exactly what happened in as much detail as possible. They'll make arrangements to see you quickly so that your crown can either be reattached to the tooth or replaced entirely. Don't forget to ask if your dentist has any special instructions that you should follow until it's time for your appointment.
Step 3: If Possible, Put the Crown Back on Your Tooth
In some cases, your dentist might suggest temporarily reseating the crown to protect the affected tooth. After cleaning the inside of the crown, you can apply a bit of toothpaste to act as an adhesive; this will help ensure that the restoration stays in place after you reinsert it.
Step 4: Keep the Affected Tooth Safe
You should avoid chewing with the affected tooth so as not to damage it further. Ideally, you should stay away from hard or crunchy foods altogether; stick to softer options like yogurt. Additionally, it's important to keep the area around the tooth clean to prevent infection, so remember to rinse with salt water at regular intervals. You can also brush your teeth, but you need to be very careful around the exposed area.
Step 5: Get to Your Appointment
At your emergency appointment, your dentist will check the crown (assuming you still have it) as well as the tooth. The next steps can vary based on your circumstances. If the crown is still good, it can typically be reattached right away. But if it's deemed too old or broken to use anymore, you'll need to begin the process of having a new crown made; if this is the case, your dentist will let you know about the costs involved as well as how long you can expect it to take.
About the Author
Dr. Dan Greenwood earned his Doctor of Dental Surgery at The Ohio State University in 1995, and he completed residencies in General Practice Dentistry and Primary Care at the Department of Veterans Affairs in Cleveland, OH. Today at Greenwood Dental in Sagamore Hills, he uses personalized dental crowns to expertly restore his patients' smiles. To schedule a consultation with Dr. Greenwood, visit his website or call (330) 467-2522.